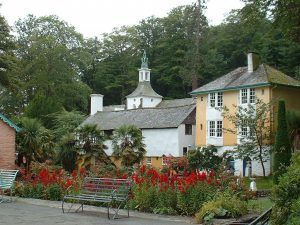 Portmeirion is an unique village situated a few miles from Porthmadog on the Cardigan coast, about 45 mins from our self-catering farmhouse and barn conversion here at Cae Garw on the Llyn Peninsula. It is the creation of the inspired Welsh architect Sir Clough Williams- Ellis (1883- 1978).
Today Portmeirion is a listed heritage site, well known for a romantic break getaway with several gift shops in the village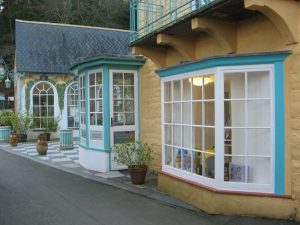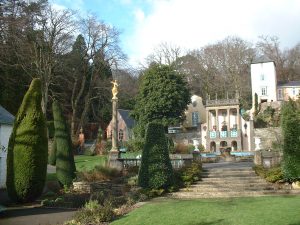 Situated between the estuaries of the rivers Glaslyn and Dwyryd - Portmeirion sheltered position has resulted in elaborate gardens with luxuriant growths of many tropical plants and trees. With numerous garden walks and woodland paths, as well a plant centre selling hundreds of exotic plants - Portmeirion remains as one of the most popular attractions in Wales .
Portmeirion has been important location shoot for such films as The Prisoner during the 1960's, also Dr Who, Treasure Hunt , Brideshead Revisited, Bread, and the last episode of Cold Feet.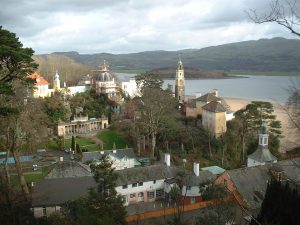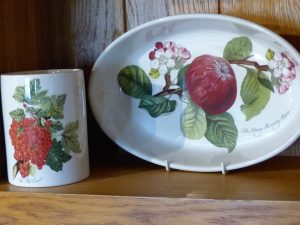 It was Sir Clough Williams-Ellis' daughter Susan that established Portmeirion Pottery in 1960, a collection of tableware, giftware and cookware, and in 1972 the Botanic Garden design was created. In the village you will find loads of different pottery design in the gift shops, as well as the Pottery Seconds Warehouse.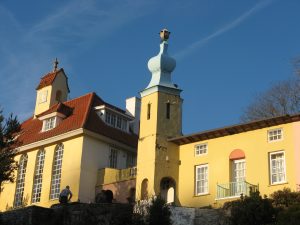 In the grounds of the enchanting Portmeirion village lies Castell Deudraeth. With two contemporary style dining areas  - menus focus on fresh local produce including lobster, crab and scallops, as well as Welsh beef from the Lleyn Peninsula.
Visit the website at - Portmeirion