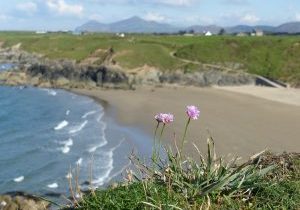 Another of the Llyn's quieter beaches is Towyn, near Tudweiliog on the northern side of the Llyn Peninsula - and is around 15 mins drive from our self catering barn and farmhouse at Cae Garw.
Accessible from Towyn farm car park  - it is merely a short walk along a field down a grassy track and path .
Do visit the Cwt Tatws on your way down to the beach - an unique gift shop selling all kinds of stylish accessories for you and your home. Also a great place to stop for a cuppa while walking the Llyn Coastal path !
The coastal path to the left of the beach will take you past the quaint cove of Porth Cychod eventually arriving at Porth Ysgaden. This is definitely a place to see stunning sunsets - against the backdropof a derelict gable end of a building.
Steeped in history , Porth Ysgaden played am important part in the importing of coal, china, leather and lime. Indeed - the remains of the lime kiln can be seen today at the far end of the car park.
The cove is popular with fishermen and divers alike, but access to the sandy part of the beach is largely determined by the tide.