Riding on the Llyn Peninsula
Explore Wales on horseback this year, and enjoy the wonderful open scenery of the Llyn Peninsula here in North Wales. With Snowdonia boasting over 264km of bridleway , there are equine rides along winding and grassy tracks, quiet rural lanes, heather moorlands, as welll as beach riding along miles of golden sands.
On the Llyn there are horse riding routes are bridleways designed for every age group and riding experience, offering horse lovers an unforgetable welsh riding holiday.
Here at Cae Garw - at our self-catering famhouse and barn conversion . we are lucky enough to have one of the best Lusitano Stud and Riding Centre right in our village!
We can offer a short weekend or winter break - or full weeks holiday , enabling you to make the most of the local equine amenities - you could be riding along the Lleyn coastline sooner than you think!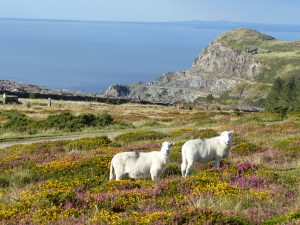 Pen Llyn Lusitano Stud & Riding Centre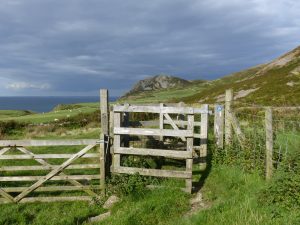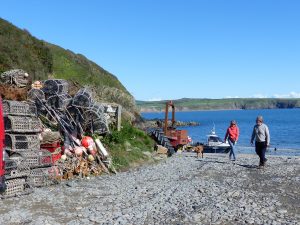 Situated in our village, and within close proxomity of Abersoch, Nefyn and Pwllheli - this riding centre in Llaniestyn specialaises in dressage as well as a riding school.
Ride through quiet country lanes, or go trekking up Garnfadryn mountain enjoying the beautiful scenery - experience the magnificent views over Hell's Mouth Bay as you go past our famhouse. An exciting beach ride will take you to one of our 20 local beaches , enjoying a well earned refreshement at a local Inn en route.
Riding instructors offer private lessons and clinics on dressage, with 4 Lusitano stallions having been trained to advanced classical dressage .The Passage, Piaffe, Pirouette, Spanish walk and Half pass are all taught by the dressage team, who often perform displays at local Agricultural shows, Riding Clubs as well as the Abersoch Jazz Festival. Riding facilities include an Indoor School.
The Stud Stallions on offer are some of the highest graded stallions in Britain, the mares from leading bloodlines such as Michael Whittaker's Showjumping Champion Novilhiero. Youngstock are also offered for sale.
Visit the Lusitano Cymru website - click here
 Situated 3 miles from Abersoch village, Cilan Riding Centre is long established , with horseback rides over the National Trust owned Cilan headland. Located in an area of Outstanding Natural beauty and a site of Special Scientific Interest - this heather moorland is the most southerly point of the Lleyn Peninsula, and the escorted rides has exceptional views over Hell's Mouth Bay or Porth Neigwl, savouring the peace and tranquillity of the countryside. All rides are off road - and cater for novice and experienced riders alike. Open main season only - ages 4 and upwards. WTRA and WTB accredited