Pistyll - Nant Gwrtheyrn - Circular route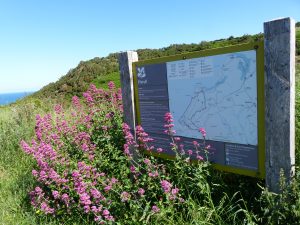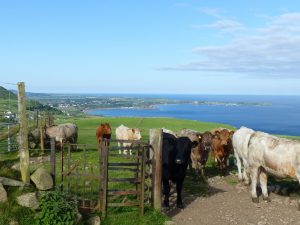 Follow the marked path to the top of the hill, leaving behind stunning views of the Nefyn coastline and Porthdinllaen in the background. The footpath then meanders over a few fields, passing Cefnydd farm on your right and towards Ciliau Uchaf. After passing to the right of Ciliau Uchaf, follow the path that takes you ahead, then downhill to your left passing Ciliau Ganol.
A slight de tour to the fields on the right a bit further will allow you to view the magnificent stretch of Porth Pistyll coastline, with the Welsh Language Centre of Nant Gwrtheyrn on your right, with the ancient oak & birch woodland of Gallt y Bwlch clinging to the hillside in front.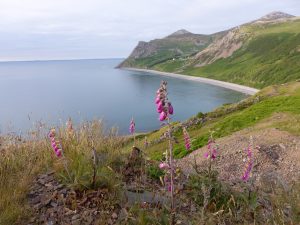 The area here is steeped in history, the Nant having three granite quarries. Quarrying of the granite-like stone began in earnest in 1861.Three quarries opened in that decade, primarily supplying and shipping setts for paving the streets of rapidly growing cities such as Liverpool and Manchester. Chwarel Porth y Nant was located just below the village of Nant Gwrtheyrn. There were two inclines running down from the quarry to the shore here, where ships were regularly loaded here, as well as at a second pier at Cae'r Nant (far left of the beach). The third quarry Carreg y Llam was situated just behind Cae'r Nant. Quarrying ceased here in 1939. Often, you can see wild goats scrambling over the stony terrain of the old quarries.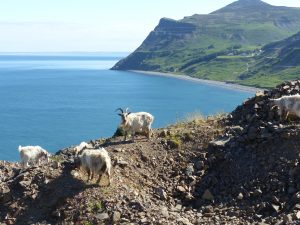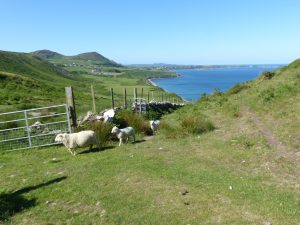 Having reached Cae'r Nant quarry, the footpath then continues upwards to your left, passing a bench and through a kissing gate. Continue through the gap between the hills, with Penrhyn Glas headland on your right and the Gwylwyr hills straight ahead of you to the left. Pistyll beach is ahead on your right, although access to the beach is not straightforward.
Continuing ahead downhill, the footpath will take you through an area of National Trust land, eventually leading to St Beuno's historic church.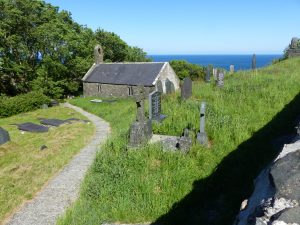 As early as the 6th century, this church was a place of solitude for Saint Beuno, and later for pilgrims making the long journey pilgrimage to Bardsey Island at the tip of the peninsula.  The current church mostly dates from the 15th century, some of it possibly from the 12th. The roof was thatched until the early 20th century when a slate roof was added. The church floor is traditionally covered with rushes and herbs. The font dates from the 11th century. On one of the walls inside is an ancient wall painting depicting two people.
From here, take the road back to the carpark.